Links from the weekend's global Zombie jamboree:
Europe
Is September 20 Greek Default Day?
Euro Declines as European Finance Chiefs Fail to Reassure on Greek Debt
DSK Says Greece Is Done
Euro Bulls Capitulate After Trichet Comments
Germany Rejects Geithner's Leveraged Rescue Fund Proposal; First Time Ever, Majority of Germans No Longer See Benefits to Eurozone Membership
European Leaders Remain Divided, Geithner Brushed Off; German Banks Need $175 Billion Capital
Interactive Infographic Of The Doomed European Financial System
USA
Obama Proposes $4 Trillion in Spending Cuts "Over 120 Years"
(that'll make a dent in the $15T deficit and $115T in unfunded liabilities)
More on the Coming Wave of Foreclosures
China
China Home Prices Rise, Challenge Curbs
Home Prices Rise in All 70 Monitored China Cities;Local Governments Rely on Ponzi Land Sales to Pay Mounting Debt;Tightening Concerns Hit China Stocks
China is in quite a pickle, a gargantuan bubblicious picle as outlined months ago,
while everyone is staring at Greece...
and
Double, Double Toil and Trouble .
Back in June it took 57 years income to buy an average apartment in the capital (
Chinese Bears
)

Calculations based on Soufun data show that in the opening months of 2006 an average-price new apartment in China's capital would cost around $US100,000 —

the equivalent of 32 years' disposable income for the average resident

.





By 2011, the average price had more than doubled to $US250,000, but relatively modest increases in income mean

it would now take 57 years of saving for the average resident to cover the cost.
So does China cool the bubble or risk
doing a Japan
(?) while they are waiting for Europe and the USA to get back to buying junk with money they haven't got. I hope they can wait a decade or three.
---------------------------------------------------------------------------------------------------------------
But the Winner Is...
This guy is amazing. I watched him a few days ago describe a 20% (or such like) property loss over a number of years as a sideways market. A wildebeeste in a suit...
Great Depression coming…Not!
For long-term investors worried about the unbelievable volatility on stock markets at the moment and wondering what their next money move is, there could only be one reason why you would want to change your general strategy - a Great Depression!

Do I expect it? No. Does anyone? Yes, Harry S. Dent, Jr. Is he right? Could be, but I doubt it.
If Harry, the author of The Great Depression Ahead, is right,

then we all should go to cash and wait on the sidelines until we can guess the right time to get back into stocks. That would mean that we're choosing to take 5-6% on a term deposit until we're pretty sure that we're out of the woods, but is this the wisest strategy?
Hmmm. We've been sinking deeper into a swamp of foetid decay for 4 years and that swamp is so deep in the forest there is no fucking sunlight.
Anyone with half a brain should have been in cash 3.5 years ago. Lets look at Australian stocks over 5 years....
How is a loss over 5 years of
-19.4%
compared to that
5%
in cash?
$100,000 invested in 2006:
Cash @ 5% is now worth

$127,000;

ASX200 is now worth

$80,600.
50% needed straight up to catch up. Whats that story about the hare and the tortoise?
Indeed why would you change such a winning strategy when Capt Crack-Pipe says stay on course?
The 2007 highs were false highs and were created by the silliness of sub-prime loans and cheap money right around the world

[but not Australia, no Housing Bubble from cheap money here]

, and what's happening now is that governments like in Greece, companies such as Centro and many financial institutions around the world are being given a reality check.

This is what the 'muddle-through thesis' looks like on a day-to-day basis and it can be really scary and sometimes quite exciting but the long-term investor shouldn't be distracted by the daily noise.
Stay on course says the Captain!! No storm ahead.
This could take over a year but when the consensus says the worst is over, there will be a big bounce in stocks. Until then, I have faith that the collective wills of governments and the best economic minds in the world can avoid the policy mistakes that created the Great Depression of the 1930s.
Sure will be a bounce, expecially when the ASX has lost another 50-70%. And, a lot of bounces in between especially when one is
Running Up The Down Escalator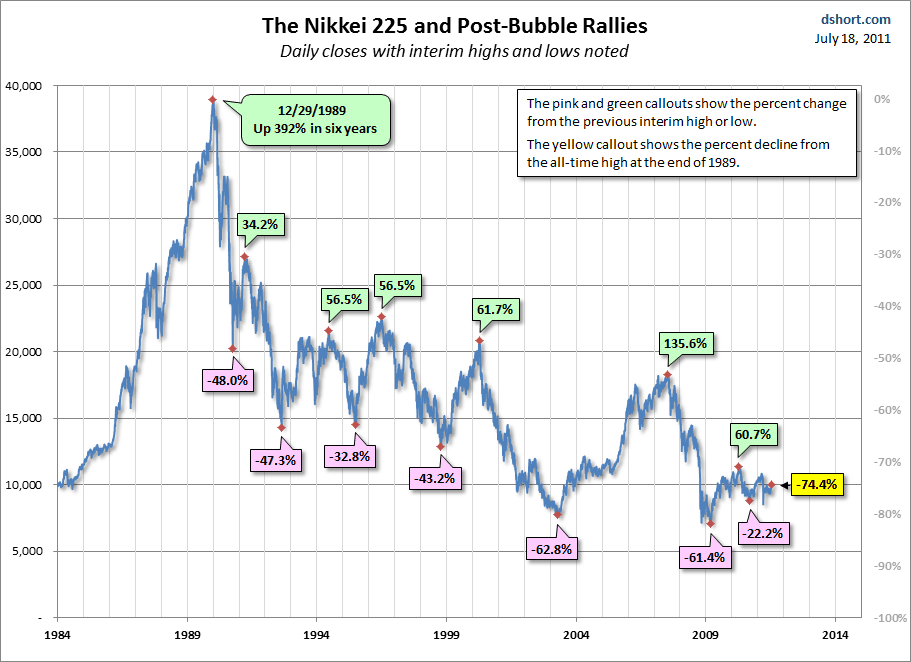 (today the Nikkei is another 12% lower than above. Overall - 77.4% over 21 years)
Inhale deeply Captain and hold it, this shit is expensive.
I think a Goldilocks downturn is more likely where stock prices don't rise by much, unemployment doesn't go too high and house prices don't fall by too much. This view rests on my belief that the likes of Brazil, Russia, India and China or the BRICs, will give the global economy the grunt that was missing in the 1930s.

This is a tongue in cheek comment, but thank God for formerly underdeveloped and Communist countries that are now playing catch up in the materialism/capitalism game!

Great Depression? Not!
Ahhh
The China Myth
coupled with another DEEEP pull on the pipe. Stay on course.
Peter Switzer is the founder of the Switzer Super Report, a newsletter and website for self-managed super funds.
Is this a cunning anti-alzheimers plan to keep older minds active via keeping pending retirees in the workforce until they are 85?
-------------------------------------------------------------------------------------------------------------
Gold Insights
The Dutch Ask Their Central Bank: "Where Is Our Gold?"
Central banks return as gold buyers
(video in link)
Analysis
Analytical 1
A Closer Look at the Gold Continuation Triangle, and the Coming Breakout to 2100
Analytical 2 (charts expand when clicked on)
Gold Daily and Silver Weekly Charts - Antics Abounding
Speculation
Ambitious?
Gold-Backed Dollar Puts 'Fair Value' at $10,000 an Ounce: Chart of the Day
Really Ambitious?
Stephen Leeb - Gold, Minimal Downside, $12,000 Upside
"Standby....Green Light! Go! Go! Go!"